The online fitness industry has taken off like crazy over the last few years with male fitness influencers sharing their personal journeys along with their nutrition and workout plans on YouTube and Instagram.
They're out there building huge followings and making bank from their passion for fitness. Some of these influencers are simply gym fanatics who inspire their followers to get in shape alongside them, while others are professional bodybuilders and weightlifters who want to show the rest of us what's possible with consistency and determination.
One thing the top influencers all have in common though is that they're bringing in big bucks through ads and sponsorships.
5 MALE FITNESS INFLUENCERS MAKING BIG MONEY FROM BRAND DEALS
Here are 5 of the best male fitness influencers out there who are making big money from brand deals:
Mike Thurston
Jesse James West
MattDoesFitness
Larry Wheels
Jay Cutler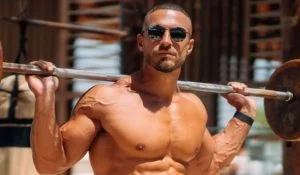 Mike Thurston
From party animal to famous fitness influencer, Mike Thurston has had a pretty interesting journey to get to where he is today. He was born on August 9th, 1990 in Leeds and started weightlifting in 2008, the same year he headed off to study Economics and Business Management at University in Newcastle.
While he did spend time in the gym at uni, and afterwards when he worked as a club promoter in Spain, he also partied hard and didn't exactly have the healthiest lifestyle.
It was only really in 2012 that he started making changes, focusing more on his health and fitness and documenting his journey on YouTube.
Now that YouTube channel has 1.35 million subscribers and Mike's built a whole career in the fitness industry as an influencer, trainer, and body recomposition specialist.
Alongside his popular YouTube channel he also has over 1 million followers on Instagram and between the two platforms he shares behind the scenes content, travel vlogs, workout videos, and advice on fitness and nutrition.
With such a huge following it's no surprise that Mike is making bank from brand deals, and he's worked with big names including MyProtein, White Towels, and Bioniq.com. He's also estimated to make around $5000 a month just in YouTube ads, which is insane.
There's more to Mike than just being an influencer though, he's also the founder of fitness coaching platform THRST.
You can sign up the THRST app for £9.99 a month, or £74.99 for the year, and with that you get a whole load of exclusive content from Mike, including a video library covering all aspects of training and nutrition, carefully curated nutritional plans, and specialised training programmes to get you in the best possible shape.
On top of that, the official THRST website also sells workout apparel including leggings, shorts, tops, and swimwear.
With all that going on it's not a huge surprise that Mike Thurston has a net worth of around $8 million.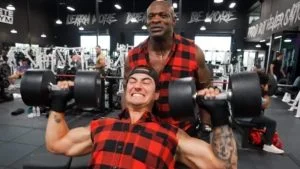 Jesse James West
Born on 25th January 2000 in Sparta, New Jersey, Jesse James West is a young male fitness influencer who's made a huge name for himself in the gym world.
Jesse has always had an interest in sport and fitness and enjoyed playing Lacross when he was studying at Montclair State University.
He started his YouTube channel to share his progress as he started taking bodybuilding seriously, and now shares his content with over 2 million subscribers.
Jesse's catchphrase 'stay relentless' is all over his channel, and the energy he has is pretty infectious and inspiring. He says he wants to use his platforms to share all the information and advice he wishes he'd known when he was first starting out, so that other people can hit the ground running and start building the body of their dreams.
His quick rise to fame has caught the attention of various brands and Jesse makes a decent chunk of change promoting them on his channels and acting as an ambassador.
He also makes an amazing income from ad revenue on his YouTube channel as well as selling his own merchandise and workout plans on his website. His workout plans range from a home workout programme for $14.99 to an intensive 12 week programme, humbly called the 'world's greatest workout programme' for $59.99. And his range of merch includes hoodies, sweatshirts and t-shirts all with slogans that perfectly match Jesse's 'stay relentless' branding.
As far as his personal life goes, Jesse has been dating YouTuber and Instagram influencer Claudia Walsh for a while now and she often appears in his videos.
Online reports put Jesse's net worth at around $2 million and that figure is likely to keep going up over the next few years if he keeps doing what he's been doing.
MattDoesFitness
Matt Morsia, AKA MattDoesFitness as he's also known, is one of the biggest male fitness influencers in the UK, thanks to his entertaining and authentic style.
Matt was born on January 19th, 1986 in Kent and has always been active, playing football as a kid and weight training as he got older.
He also trained in athletics when he was younger, and in 2011 he was ranked among the top three triple jumpers in the country. He had his sights set on competing for England in the London Olympics when a stress fracture injury took him out of action for six months.
When he was able to get active again the next Olympics were years away, so he shifted his focus to weight lifting. And his wife Sarah suggested he start a YouTube channel to document his journey and share what he learnt along the way.
Since those early days Matt has become a professional powerlifter and grown his tiny YouTube channel into something really epic with 2.18 million subscribers.
His mix of powerlifting videos and eating challengers has been a real hit with his audience and helped him back some big money from ads and brand deals.
Matt's worked with huge names in the fitness industry including MyProtein and Gymshark, promoting their products and acting as an ambassador for the brands.
He's also built his own brand, Morsia, which includes an app where you can find awesome meal and workout plans along with a fitness tracker and access to a huge resource library.
And if that's not enough he's also got a range of fitness accessories, headphones, and his very own energy drink – Morsia Energy.
Oh, and he wrote a book too.
The 24/7 body is a Sunday Times bestseller and is a book based on cutting edge science that dispels the myths about fad diets and workouts and helps inspire readers to find a healthy, balanced approach to food and fitness.
We don't know what Matt's net worth is, but he did make a YouTube video last year where he revealed that he made almost £300,000 from his YouTube channel alone in 2020, and the way his brand is growing that number must be getting bigger and bigger every year.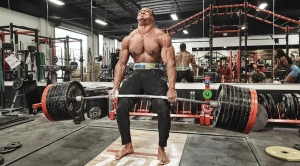 Larry Wheels
Bodybuilder and powerlifter Larry 'Wheels' Williams is an amazing example of how far you can go when you're dedicated to your goals.
He was born in The Bronx, New York, in December 1994 and moved to the Caribbean island of St Martin when he was 12 to be with his mother. He wasn't able to go to school while he was there, so had a lot of spare time on his hands. And wanting to be able to stand up to local kids who made fun of his skinny frame he started working out.
Without access to a gym or proper equipment he made do with homemade barbels made with a broomstick and a pair of cinder blocks, and rode his bike around the island for cardio.
Once the family moved back to New York a few years later Larry joined a gym straight away, and quickly realised that at 17 years old he was already the strongest guy there.
Since those early days he's gone on to get stronger and stronger, making and breaking records and building an impressive following on social media.
He's attracted over 3.8 million followers to his Insta account where his feats of strength like 585-pound one-arm deadlift and 225-pound one-arm bench press have become the stuff of legend.
This impressive social media presence has also attracted the attention of some big brands and helped Wheels make some big money from deals and sponsorships. He's currently collaborating with BooHoo and can often be seen on his Insta decked out in pieces from their fitness range.
On top of making the big bucks as a male fitness influencer, with 2.6 million YouTube subscribers as well as all his Insta followers, Larry Wheels has also built a bit of a fitness empire of his own.
His app, Playbook, is available with monthly or annual subscriptions which give you access to Larry's bodybuilding, powerlifting, and weight training tips and programs to help you reach your fitness goals. It also comes with a great community of athletes to cheer you on and access to coaching when you need it.
Along with the app Larry also has his own range of fitness apparel and accessories called Personal Record, with everything from joggers and tops to weight belts and elbow wraps.
Larry has an estimated net worth of $1.5 million and it looks like he's on track for that to just keep on growing.
Jay Cutler
Born in Massachusetts in 1973, Cutler is a retired bodybuilder who's gone on to build an impressive following as a male fitness influencer on social media and make an impressive income from brand deals and his own product range.
Jay started working at his brother's concrete pouring business when he was just 11 years old, and the physically demanding role gave him a taste of what he could achieve with determination and hard work. He started weight training when he was still in High School as well as building his strength through playing American Football.
After he graduated with a degree in criminal justice he decided to steer away from his original plan to become a corrections officer and ventured into the world of professional body building instead.
Cutler trained like a beast throughout the 90s, to work his way up to being able to compete in the top bodybuilding contests, and in 1999 he placed 14th in his first Mr Olympia competition. After that pretty decent start he went on to have an incredible Mr Olympia career, coming 2nd in 2001, 2003, 2004, and 2005. He finally broke through to first place in 2006 and kept that title in 2007, 2009, and 2010.
In the early 2000s he also won the Arnold Classic three times in a row, as well as the Dutch Grand Prix, the British Grand Prix, the Austrian Grand Prix, and the Romanian Grand Prix.
Jay retired from competitive bodybuilding in 2013 and has gone on to have massive success as a fitness influencer and business owner.
With 4.5 million followers on Instagram he's got a lot of influence in the fitness world and he works with heaps of brands to promote their products. He's an ambassador for Trifecta, the meal prep service for people looking to make gains and get in great shape, and he also promotes Young LA regularly to his millions of followers.
As well as promoting other brands Jay also has his own company Cutler Athletics where he sells a range of hoodies, t-shirts and hats for both men and women. He also has an extensive range of supplements including pre workout, multivitamins, and probiotics for anyone looking to get in the best shape of their lives.
Between his bodybuilding wins, brand deals, and business ventures Jay Cutler has amassed an amazing net worth of roughly $30 million which just goes to show the power of hard work and determination.
These fitness influencers aren't the only ones out there making huge amounts of money from their followings, and they've all done it by sharing their journeys, their ups and downs, and their top bits of advice for getting in shape, staying motivated, and having fun along the way.
So if you want some motivation to hit the gym, some meal ideas for hitting your macros each day, or some inspiration for getting stuck in with your own influencer career then head over to YouTube and Instagram and give these 5 guys a follow and a watch, you won't regret it.