The truth is that we live in an image-conscious day and age where everyone who wants to start working on their body is in search of someone who has already achieved similar goals to look up to.
While there are an exhaustive number of fitness gurus online, it may be a little harder for women since not everyone has the same body goals. Additionally, since the gym industry is significantly male-populated, things only get more complex, making it harder to find fitting role models to follow.
But fret not, for we have compiled a list of the top female influencers in the industry so that anyone can learn from the best and become strong fitness girls.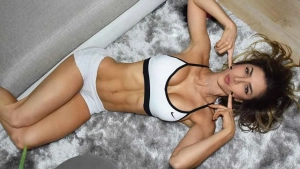 1. ANLLELA SAGRA (@ANLLELA_SAGRA)
Anllela Sagra, born on the 6th of October 1993, is more than just a pretty face with hazel eyes. This former Colombian model turned fitness influencer is well known in the gym community for her toned physique and her body transformation videos online.
She frequently posts videos and photographs of her working out on her Instagram profile, which has amassed over a whopping 15.2 million followers in the span of just a few years.
But success did not come easy to Sagra. She had to deal with family and friends who thought her bodybuilding dreams were hurting her previously slim and socially accepted figure, but she proved them all wrong after placing third in her first bodybuilding competition back in 2013, and the rest is history.
Since then, she has made appearances in fitness magazines, including Iron Man, Olympic, Fitness Curves, and Tendencia. She has collaborated with many other famous brands, including Bang Energy, VPX Sports, and Redline Energy. 1UP Nutrition, a dietary supplement company, has also been a long-time sponsor to her.
2. KAYLA ITSINES (@KAYLA_ITSINES)
Author of the eBook series Bikini Body Guides and the co-founder of a successful fitness app, Kayla Itsines is an Australia-based personal trainer, entrepreneur, and fitness influencer who has inspired thousands of women all over the world.
Her down-to-earth demeanour, coupled with the emphasis she puts on a proper diet and intelligent exercise, are just a few of the qualities that make her stand out in an extremely saturated market.
She continues to change people's lives with her optimistic approach and makes special efforts to encourage and cater to women from different walks of life. With the help of medical professionals and physiologists, she has produced programs and manuals specifically for expectant mothers, for example.
In 2016 Itsines' meal-planning and fitness app, Sweat with Kayla generated more revenue than any other fitness app, with a user pool of 30 million women. Eventually, she sold Sweat to the US-based tech company iFIT, further expanding the app's reach to a broader audience.
Over the years, she has appeared on the covers of Women's Health and Vogue Australia. Time Magazine named her on the list of the top 30 internet influencers of 2016 as well, and it is undeniable that Itsines is one of the best female influencers out there.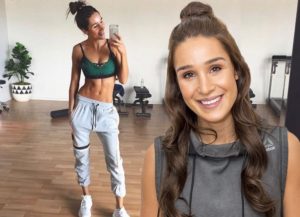 3. LAUREN DRAIN (@LAURENDRAINFIT)
Lauren Drain, among a plethora of other things, is a certified nurse, best-selling author, fitness coach, and CrossFit athlete. She is a woman of many accomplishments, but her inclination towards bodybuilding and leading a disciplined, healthy life is unrivalled. Lauren is proof that hard work and determination always pay off and that nothing is impossible.
To the delight of her 4 million Instagram followers, Drain shares her personal health tips as well as nutritional advice and fitness plans. Through her app, FIT, you can access customised menus, track progress, and get help in reaching your fitness goals.
4. MASSY ARIAS (@MASSY.ARIAS)
What first served as a means of overcoming her despair quickly evolved into a passion and eventually into a thriving career for Massiel 'Massy' Arias. Formerly known as MankoFit, Massy believes that self-love and perseverance are two of the most important things one must practise on a psychological level besides hitting the gym and picking up the weights, and her 2.7 millions followers on Instagram seem to agree.
She currently works with celebrities like Chris Hemsworth, Gabrielle Union-Wade, and SZA. She teaches HIIT, yoga, callisthenics, and plyometrics, to name a few, and focuses her exercises on developing strength and endurance.
Her programs incline more toward achieving an overall healthy body and changing for the better than just the idea of achieving an ideal body weight that seems to be so widely prominent among men and women alike nowadays.
Massy keeps busy by appearing for brands like Target, C9, Champion, and Covergirl, in addition to maintaining her toned physique as the CEO of Tru Supplements. She frequently shares healthy meal plans and workout routines that cater to a wide range of people on her website..
As one of the most well-known fitness girls, Arias has inspired numerous individuals with her life story and shown the entire world that poverty, depression, and hunger are obstacles that can be conquered with the right mindset, an active lifestyle, and of course, self-love and perseverance.
5. JENNIFER SELTER (@JENSELTER)
Jennifer is a popular fitness influencer and internet star. She has been working in the influencer business since she was a teenager, making her one of the pioneers of the industry. Her claim to fame is her toned abs and butt, along with her overall physique. These have made her wildly popular and gotten her featured in magazines like Vanity Fair, The Huffington Post, Elite Daily, and The New York Post, to name a few.
Nike, Lululemon, and New Balance, three well-known sportswear companies, have also offered her sponsorship. She is now regarded as one of the top female influencers in the world.
The fitness guru now routinely updates her followers on her social media accounts with new workout routines and strategies, as well as her insights on diet and lifestyle. You can browse through her feed (@jenselter) and see for yourself.
6. EMILY SKYE (@EMILYSKYEFIT)
This list would be incomplete without including Emily Skye, an Aussie model turned fitness mogul who is known for her dedication towards healthy dieting, training and lifestyle. Fans adore Emily for her online honesty and candour, in addition to posting photos of herself flaunting her abs and muscles.
Skye frequently promotes the idea that not everything you read online should be taken at face value, which is frankly not said enough in general, considering the number of predatory schemes that are in play.
Along with being a role model for fitness-obsessed women (which isn't an easy job in and of itself), Skye founded her own beauty line, James Cosmetics, which has actively collaborated with well-known fitness companies like Reebok and Women's Best and contributed to publications such as Forbes and The Huffington Post.
Her reputation as a personal trainer is further enhanced by her success in numerous bodybuilding competitions, and she is crowned by many as one of the best female influencers in the industry.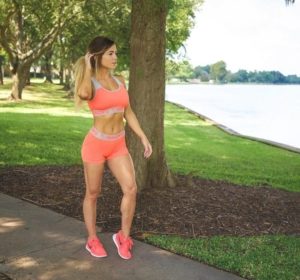 7. NIKKI BLACKLETTER (@NIKKIBLACKLETTER)
This fitness expert and athlete is widely well-known for her leg and glute exercises and has also made strides in the gaming industry, where she often broadcasts live streams of her games on Twitch. Nikki does it all, from posting clips of herself lifting crazy weights, footage of her sculpted body, and posts on cosmetic advice and home decor.
As her training guides quickly became popular, sponsorship offers from companies like Gymshark, Cellucor, Alani Nu, and Mvmt began to pour in. She is now recognised for having won a number of bikini contests and is regarded as one of the top female influencers in the business.
8. MICHELLE LEWIN (@MICHELLE_LEWIN)
Model, actress, and fitness icon Michelle Lewin is an IFBB competitor with an incredible figure. Lewin is a wonderful example of what hard work can accomplish thanks to her commitment to honing her body and her engaging, instructional social media presence.
Lewin has established her identity in the eyes of the fitness industry as well as outside of it by taking first place in professional bodybuilding competitions, appearing in music videos, and operating a popular social media channel.
By inspiring her followers through the sharing of short videos and reels on Instagram, Michelle rose to the position of one of the top fitness models on the platform. Following her success, she went on to launch her own line of supplements and a variety of home exercise equipment.
Plus, she helped develop the apps Fitplan and Mealplan to aid others in achieving their fitness and health goals. Michelle has established herself as the Latin queen of the fitness scene, and her svelte figure has graced over 30 magazine covers, from Sports & Fitness to Her Muscle & Fitness and Forbes.
9. RACHEL BRATHERN (@YOGA_GIRL)
Rachel Brathen, better known by her online alias Yoga Girl, is a Swedish native who now calls Aruba home. She is also a published author, motivational speaker, and certified yoga instructor. The OneOeight founder inspires aspiring yogis all over the world with her motivational and delightfully authentic Instagram posts, her memoir, and her online community dedicated to healthy living.
Not too long ago, Rachel and her husband, Dennis Schoneveld, opened Island Yoga, the largest yoga studio in the Caribbean, where she conducts 23-day retreats for yoga teacher training and teaches everything from vinyasa flow to SUP yoga.
10. SOMMER RAY (@SOMMERRAY)
Sommer Ray, an American fitness model and influencer with more than 26 million Instagram followers, is another fantastic fitness gal we've got on the list. Ray began working out with her bodybuilder father at the age of 14 and is renowned for her fit physique and health-promoting lifestyle.
The fitness expert, who is in her 20s now, is quite public about her dislike of plastic surgery and altered images, as well as her sincerity and ability to connect with her millions of fans. Furthermore, the fitness model runs her own cosmetics line, IMARAЇS Beauty which is endorsed by Forbes, Byrdie, and Glossy, among other big-shot names.
HIDDEN BENEFIT OF FOLLOWING TOP INFLUENCERS
Influencers are a great source of opportunities, regardless of what you seek.
SMEs
For SMEs, the top female influencers can expose and connect you to your target audience through endorsement deals. Even without these deals, you can see exactly what your niche market seeks and craft strategies for reaching them.
Upcoming Influencers
For upcoming influencers, you can take critical lessons on what to do and what not to do on your journey. Who better to learn from than those who have walked the path before you?
The best female influencers also often share tips that anyone can use to achieve significant success. It may be workout tips on how to get in remarkable shape or picture and lighting tips for creating the best content for Instagram.
Sometimes, all it takes is a little curiosity to look beyond what's posted and actually see how influencers do what they do. But overall, following an established influencer is one of the best ways to become an influencer yourself.
Casual IG users
If you don't fall into these two categories, following an influencer can still help you tap into amazing Instagram content. Every time you log on, you'll find new pictures and videos that make the app's experience totally worth it.
Following influencers also exposes you to a new way of living life. You may stumble upon a new life hack or discover a new vacation destination that you absolutely adore. Coffee flavours, tv shows, new exercises, or even trendy fashion — you can discover all this and more simply by following an influencer.
CONCLUSION
The internet is condensed with information, and while some of it will help you grow exponentially, it is quite easy to get hooked to appealing strategies and products marketed as the Holy Grail – the solution to all your physical insecurities. You don't really want to find yourself following uninformed yet trendy routines off of the internet or reading blog posts on how you can burn belly fat in 7 days, either.
What you can do, however, is check out the fitness girls we listed here. They're objectively among the best female influencers of the industry not only because they're established figures with cult-like followings within and outside the gym community but also because they're sources of credible information.