While Yoga has its roots in ancient Indian philosophy, it has become an integral part of today's health practices. Yoga has grown increasingly popular in recent years thanks to its many health benefits.
Whether you're a devotee or just getting started, following top yoga influencers on Instagram can help increase your own practice. And with the rise of social media, finding the best Instagram yoga influencers to follow has never been easier.
Following accounts like Adriene Mishler and Boys of Yoga will give you the inspiration you need to get moving and stay healthy! Here are some of the best Yoga influencers to follow on Instagram.
TOP YOGA INFLUENCERS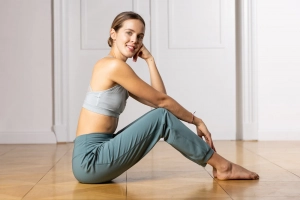 ADRIENE MISHLER (@ADRIENELOUISE)
Adriene Mishler is an American yoga teacher, entrepreneur, and the creator of one of the most popular yoga channels on YouTube. She co-owns Find What Feels Good and hosted a workout web series known as Yoga With Adriene.
Having over a million followers on Instagram, Adriene has been teaching Yoga since she was 16 years old. Additionally, she has taught over 2 million people through her videos, helping them transform their lives with Yoga.
Adriene has a rich understanding of the yoga practice. Her relaxed and friendly teaching methods make her loved by other yogis. Unsurprisingly, she is ranked as one of the fitness industry's top 100 most influential people by many magazines.
Also, her channel is consistently in the top 10 list for YouTube and Instagram fitness channels. You can subscribe to her YouTube channel or follow her Instagram page @adrienelouise to learn yoga.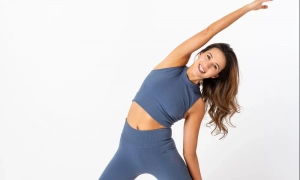 RACHEL BRATHEN(@YOGA_GIRL )
Another top yoga influencer on Instagram is Rachel Brathen. She's a New York Times Bestselling author of Yoga Girl with her Instagram account @yoga_girl having more than two million followers. A lover of nature, Rachel also creates content on the benefits of clean living and journaling.
Rachel is also the founder of Yoga Girl, a yoga subscription service that offers members several discounts and yoga classes. Her yoga studio, Island Yoga, is the largest in the Caribbean. You can connect with her on Instagram @yoga_girl.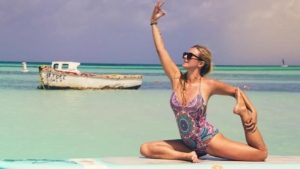 VICTORIA GIBBS (@WHATGIBBS)
Winning the New York Regional Yoga Championship four times, Victoria Gibbs is a yoga athlete and an inspiration to yogis worldwide. She often puts out inspirational and motivational content on Instagram, helping newbies develop flexibility and enjoy the practice.
One of the best yoga influencers, Victoria, makes challenging poses seem easy. She takes both advanced and beginner yoga classes, helping students master challenging yoga poses.
Her 40k-plus Instagram family enjoys content ranging from Yoga and mental health tips to general fitness and healthy living. You can follow Victoria on Instagram @whatgibbs.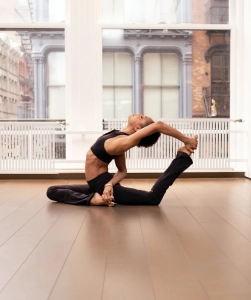 BOYS OF YOGA (@BOYSOFYOGA)
Even though many people understand that yoga isn't for just men, many more haven't seen the light just yet. Male yogis will agree that there aren't many Instagram accounts dedicated to just them. Thankfully, the likes of Boys of Yoga make yoga content easily accessible to men.
The brain behind Boys of Yoga, Michael James Wong, is one of the top male yoga influencers on Instagram. Michael believes it's against yoga ethos to be great or terrible at Yoga.
Also, on the Instagram page, he encourages men to embrace Yoga, making them understand that it's not gender-specific or biased. The Boys of Yoga Instagram page is a blend of different quotes and yoga poses. You can follow them @boysofyoga.
AMANDA BISK (@AMANDABISK)
Another top yoga influencer, instructor, and enthusiast is Amanda Bisk. A former Australian Pole Vaulter, Amanda has over 664k followers on Instagram and the Fresh Body Fit Mind website.
Not only does she inspire new and experienced yoga devotees, she's also an athletics coach and exercise physiologist.
Amanda's ability to contort and bend her limbs effortlessly makes her one of the best yoga influencers on Instagram. Most yogis know that manifesting the kind of poses Amanda does requires skill and consistency. This is why you should consider following Amanda on Instagram @amandabisk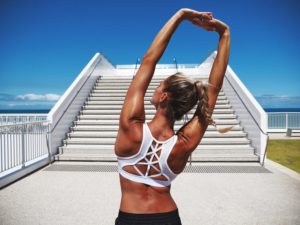 ONE MORE BONUS YOGA INFLUENCER
Dylan Werner (@dylanwerneryoga)
Another male yoga influencer making it to our list is Dylan Werner, a yoga powerhouse. Achieving the gravity-defying and flexible poses Dylan does takes years of practice. Displaying strength and incredible balance, he dishes out art, wisdom, and lots of Yoga in his Instagram posts.
With over ten years of experience as a yoga instructor, Dylan loves creative sequencing, arm balancing, movement, and handstands. He focuses on reality, existence, and knowledge, and how they come together to allow a deeper inner connection.
Also, to help other yogis in their yoga journey, he shares his journey in several events and workshops. To date, he has had over 400 events and workshops in more than 60 countries worldwide. Follow Dylan on Instagram @dylanwerneryoga
6 REASONS EVERYONE SHOULD DO YOGA
Yoga has many benefits, but the most significant one might be its ability to improve your health. According to scientific evidence from the National Institute of Health, Yoga helps to reduce stress.
The great thing about Yoga is you don't have to practice it in your local studio or gym. You can practice Yoga anywhere, provided you have adequate floor space to keep you going through each pose. If you're a new yogi, here are some things you stand to gain when you practice Yoga.
It improves your flexibility
One of the many benefits of Yoga is improved overall flexibility, especially in older adults. Yoga is able to do this because it stretches your muscles during each session. In addition, there are many yoga styles that aid flexibility, depending on your preference.
For instance, if you're a beginner, you can practice gentle yoga poses until you've achieved flexibility before moving to moderate poses.
Provides relief from stress and tension
Yoga is a simple and accessible way to relieve stress and tension in the body. Studies show that Yoga has been shown to lower blood pressure, improve sleep quality, and manage chronic pain. Some other studies suggest that practicing Yoga regularly may even help you live longer.
Facilitates good posture
The human head, which weighs about 5kg, is about the size of a newborn baby. If you have an erect spine, your back and neck muscles are not strained and can support the weight.
However, with poor posture, you'll strain your neck muscles when you move your head forward while walking or sitting. Over time, poor posture and neck straining can cause degenerative spine arthritis.
Yoga can help counteract those effects by improving your spine's mobility. Additionally, because Yoga focuses on flexibility and mobility, practicing it helps to release tight muscles like your hamstrings and loosen your joints.
Aids anxiety reduction
According to the Anxiety and Depression Association of America, anxiety is likely to be the country's most prominent mental health disorder. Social anxiety, generalized anxiety as well as chronic stress are categorized as anxiety disorders.
Thankfully, practicing yoga asana is an effective alternative treatment for these anxiety disorders. Likewise, guided meditation, also known as Yoga Nidra, has been proven to reduce anxiety symptoms.
Increases balance
While balance is essential for some yoga poses like the Tree Pose, you also need balance in carrying out day-to-day activities. For instance, descending a flight of stairs and reaching up the top shelf to grab something requires balance.
The good news is that yoga is excellent for balance. Poses like warrior poses engage your core muscles and increase overall balance over time.
According to research, people that consistently practice Yoga have improved balance. If you're an older adult or you aren't very mobile, you can practice chair or adaptive Yoga.
Boosts bone health
Another benefit of following top yoga influencers and practicing Yoga is that it slows down bone loss. By practicing Yoga for at least 12 minutes daily, people with osteoporosis and osteopenia can experience improved bone health.
Typically, several yoga poses are isometric contractions. By this, we mean that although the muscles are completely engaged, the muscles doing the Yoga poses retain their length.
For instance, Warrior II and Plank Pose are isometric exercises. Repeating these movements over time stimulate the process of osteogenesis and gradually improve bone health
TO WRAP IT UP
As long as the fitness and health industry remains, Yoga will always be an essential aspect of it. With many Instagram yoga influencers, rest assured you have all the guidance you need in your yoga journey.
Whether you're a newbie looking to pick up a new short term hobby, or you're a yoga enthusiast looking to take your practice to the next level, these yoga influencers are precisely who you need to follow on Instagram.
They are leaders in the yoga community who have an educated opinion and offer great content as well as guidance. Thankfully, this article discusses the best yoga influencers to follow on Instagram.
While some believe Yoga to be only meditation, it suffices to know that there are other forms of Yoga. Practicing all forms of Yoga can bring about all-around wellness and improve your quality of life. By following these influencers' accounts, you can easily stay up-to-date with new trends and experiences in the yoga world.