Welcome to our blog on "Top 5 Tools for Creating and Editing Social Media Videos"! In today's digital age, video content is becoming increasingly important for businesses and individuals looking to engage with their audience on social media.
According to a study by HubSpot, 54% of consumers want to see more video content from a brand or business they support. Additionally, a report by Cisco predicts that by 2022, online videos will make up more than 82% of all consumer internet traffic. 
With these statistics in mind, it's crucial to have the right tools to create and edit high-quality videos for social media. In this blog, we will be showing you the top 5 tools that can help you create and edit engaging and professional-looking videos for social media platforms like YouTube, Instagram, TikTok, and more.
We'll also share some tips on how you can create content that goes viral. Ready? Let's dive in.
Top 5 Tools for Creating and Editing Social Media Videos
1. Adobe Premiere Rush
Adobe Premiere is a powerful video editing software that makes it easy to create and edit high-quality videos for social media. It tops many lists of the best social media video tools, and there are many reasons why. 
One of the key features of Adobe Premiere Rush is its intuitive interface, which makes it easy to navigate and find the tools you need. You can easily import footage from your camera or mobile device, and then use the software's editing tools to trim, crop, and adjust the color and audio of your video.
Now these don't sound like a lot but the app's intuitive interface really makes it easier to create content quickly, which is important if you do that very often.
Additionally, Adobe Premiere Rush also offers a variety of preset templates and effects that can be used to add a professional touch to your videos. That's not the only thing you can add; text, images, and logos can also be added easily on the app.
The app is free to download on both Android and iOS, but you only get access to a few features that don't include the Creative Cloud Express. For Adobe Premiere Rush CC, you'll need to pay $9.99 per month for access to some of the coolest features.
2. Magisto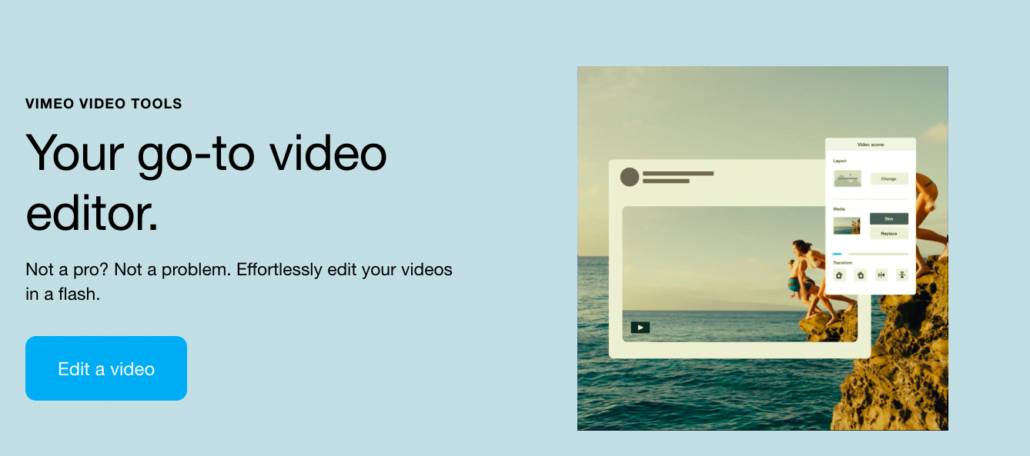 Magisto lets you easily create professional-looking videos with minimal effort. The app uses AI in all the best ways – editing and enhancing your videos. It also has a lot of templates, music options, and special effects that make it easier to create videos that are tailored to your brand and audience.
You can get Magisto for both iOS and Android devices, and there's really no limit to the amount of content you can create, for which platforms, and for what purposes, from Instagram marketing to Facebook Ads..
To get started, all you need to do is simply upload your video footage and select a template or theme. You can then choose from a variety of music options and add text or logos to personalize your video. Magisto's AI will then automatically edit and enhance your video, giving it a polished and professional look.
Of course, you can also do other video editing tasks, from adding shadows to cutting clips, editing video thumbnails, and even inserting stickers.
Magisto is free to use with minimal features, and the pricing starts at $9.99/month for the premium tier plan, $19.99/month for the professional plan and $69.99/month for the business plan.
3. KineMaster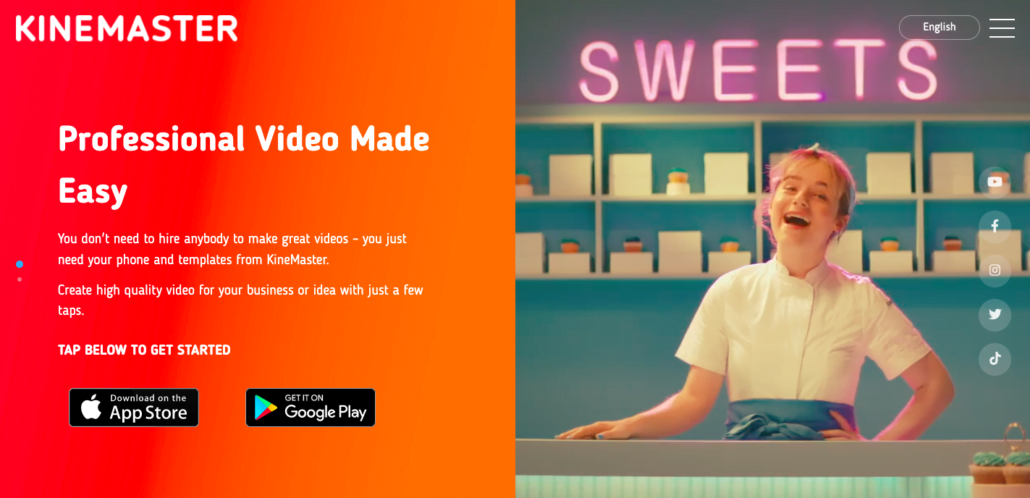 The cool thing about KineMaster is that whether you're a beginner or a professional, the app has a wide range of features and tools that can help you create high-quality videos.
One feature we really like is that it allows you to trim clips and layers really easily. This feeds into its overall theme of allowing you to be the creative director of your own video. You can adjust audio clip timing, upload multiple video layers, and even multi-track audios.
Additionally, KineMaster also offers a variety of preset templates and effects that can be used to add a professional touch to your videos. You can also add text, images, and logos to personalize your videos and make them stand out on social media (which if we're being honest, any app that doesn't have these does not merit a consideration.)
You can get KineMaster for free, but all your created videos will carry a watermark. The pro version is $4.99 per month or $39.99 if you pay per year, which removes the watermark and provides access to all features and tools such as multiple layers of video, images and text, 3D transitions, and more.
4. FilmoraGo
If you've been creating social media content for more than a minute, you've probably already heard of FilmoraGo. Not only is it popular, it's also pretty great for creating professional-looking videos for social media with relative ease.
FilmoraGo stands out from many other video editing apps for the way it allows you to easily add music to your videos. You can access royalty free music provided by filmora and you can even adjust the video's length to match the music.
FilmoraGo is also great for experimenting. When you add text and stickers, they are separate from your clips, which means you can easily move them around and place them wherever you need without too much trouble.
The app is free to download and use, but you only get a free trial. After that, the app costs $49.99 per year. FilmoraGo is available for Android and iOS devices.
5. Quik

Quik is a simple video editing app that allows you to quickly and easily make videos from your photos and video clips. In fact, if you've ever used a GoPro, then you probably already know all about Quik.
It is eerily compatible with the GoPro, allowing you to control your device remotely and editing your footage quickly and easily. Quik will automatically import your footage, help you sync clips with music and photos, and even create time lapse videos.
Naturally, it has a multi-track editor, 4k support, and can export directly to YouTube. The Quik app has free and paid plans. The free plan gives you access to limited features like Quikstories and themes. The premium subscription is $1.99/month or $9.99/year.
7 Tips for Creating Social Media Videos That Go Viral
Now that we've covered all the amazing apps you can use to create your videos, it's also important to talk about how to ensure these videos get the attention they deserve.
So in this section, we'll discuss 7 tips you can use to create potentially viral social media videos.
1. Know Your Audience
Understanding your target audience is essential for creating a video that resonates with them. The good news is that if you're already interacting with the audience, whether as an influencer or a user, you already have a pretty good idea of what people find interesting and what they don't.
Simply try to replicate the formula and you may hit the viral jackpot.
2. Use Emotional Appeals
People are more likely to share content that evokes an emotional response. Use humor, inspiration, or even shock to create an emotional connection with your audience.
If you think about viral videos, they often invoke emotions, and the sad fact is that negative emotions tend to be more catchy than positive ones. So while a message of positivity might make people excited, pissing users off will most definitely get shares.
3. Keep it Short and Simple
Attention spans are short, especially on social media. Keep your videos short, concise, and leave a few to be desired. That way, people go into the comment section to talk about details and engagement like that is bound to get the algorithm's attention.
4. Use Hashtags
Hashtags make it easy for people to find and share your content. Use relevant hashtags to increase the visibility of your message and make it more discoverable.
One sneaky strategy is to use hashtags that, while are popular, aren't completely related to your content. That way, even more people will find it. This approach can backfire, however, so use it cautiously.
5. Ride the Trends
Instagram's algorithm is currently favoring reels above other content types. Identifying algorithmic trends like these allow you to spread your message even further and get more eyes on your content. Why not let the algorithm do some of the work for you? 
6. Tell a Story
Storytelling is particularly useful for brands and businesses looking to get their message out there. For example, National Geographic has successfully built its audience across multiple social media channels by telling stories that are closely associated with what the brand stands for.
Storytelling can be difficult and demanding. But when done right, they can yield a treasure trove of viral content.
7. Use Influencers
Partnering with influencers in your industry can help you reach a wider audience and lend a lot of authority to your message. Besides promoting your content, the association can also get newer audience segments talking about you, fueling the fire of your virality.
Our Top App Recommendation
Adobe Premiere is our top app recommendation for creating and editing social media videos, based on the number of features you get for free. Adobe is an authority in video editing and creation,and the Premiere app delivers everything you expect and more.
You can subscribe to the premium version for even more creative freedom. Once you're done creating your content, be sure to follow these tips to increase the chances of your social media message going viral. And once you go viral, it's a short leap to partnering with an influencer agency and earning the big bucks!