There are some things in life we strive for as children; world peace, good health, a decent job when we're older, and the blue tick on Instagram. It used to be the mark of a famous celebrity, then it was the mark of huge YouTubers, and now it is the mark of someone who has been on Love Island and now advertises teeth whitening products.
Ok, I'm joking, the blue tick on Instagram is very tough to get and so you do have to have done something of note to be worthy of it. It opens doors to larger brand deals and can put you in touch with some great brands.
How does one obtain a blue tick…let's have a google?
Step 1: Go into your settings on Instagram
Step 2: Tap the account
Step 3: Tap Request Verification
Step 4: Fill in the application form
Step 5: Send
BOOM! You've done all you can! Simple as that. Now you only need to wait up to 30 days for a notification that either says you've got it or sorry mate try again in 30 days, in some similar way or another.
So, although that is genuinely true (go on, try it) you may have to do a bit more long-term work to receive a tick!
If you are unsuccessful, Instagram will tell you this:
Your account wasn't verified because it doesn't meet the criteria for verification
What is there criteria to get an Instagram Verified Blue Tick Mark? No one knows. There isn't a specific follower count, or like total that you need to meet to get it, Instagram is just picky and you either get it or you don't. What we do know is that you have to have done something 'notable', that could mean you are; very attractive with 1 million followers, the funniest weatherman on TV, the most dramatic person on the new reality TV programme, or a Nobel prize winner. It could be anything, but having some sort of fame really will help you, even if that is growing to be internet famous.
Let's put together an actual plan to work towards that blue tick.
STEP 1: FIND YOUR NICHE
Starting an Instagram account is simple, posting pictures of yourself is easy, but you need to be posting about something you're interested in/good at. For example, I love golf (and don't tell my girlfriend but I play it quite often) so my obvious niche would be golf. Videos of me playing, challenges, course reviews, clothing try-ons, playing abroad, helpful advice, and so on – it's easy to think of ideas and it's easy to post. It has to be natural though, be passionate.
STEP 2: CONSISTENCY
Consistency is key, as always. If you gain 100 followers from posts about your local golf course then you need to keep giving those 100 reasons to keep coming to your profile. You'll gain another 50 at some point and then you keep doing the same thing. Rinse and repeat.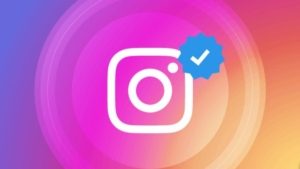 STEP 3: LEVEL UP
So you've gained 1000 followers from self-shot videos of you doing your thing! Next, you might want to try getting someone else to film for you, make it a bit more professional, or buy a tripod and get better angles. If you keep levelling up, you keep introducing more people.
STEP 4: SMASH IT!
This is where I can't help. To gain a following you just have to keep making good content, and it is so much easier said than done. No one knows the secret to gain hundreds of thousands of followers but you can give yourself the best chance. Just. Keep Going.
Let's pretend, you've done all the above, you now have 757,439 followers and have become a social legend in your niche. You know what to do, hop into those settings and apply again.
We can only hope Instagram likes what you're about.