Why you should become a Workout Influencer
If you're a workout influencer looking to collaborate with top brands, then put down your protein shaker, stop taking that mirror selfie and pay attention.
Here at Gymfluencers, we're on the hunt for new content creators to become ambassadors for some of the biggest and best companies in the world.
Influencer marketing in the health and fitness industry is booming right now thanks to leading personalities creating high-quality engaging content across social platforms such as YouTube, META, Instagram, TikTok and Twitter.
Whether it's a side hustle or your full-time gig depends on the success of your content, but either way fitness and workout influencers can make amazing money from influencer marketing.
Top fitness influencers can make millions each month with lucrative contracts, and while that is obviously the extreme end of the spectrum, more businesses are upping their budgets for influencer marketing by the day.
We want to help you get in on the action. Sound good? Then read on.
GYMFLUENCERS FITNESS INFLUENCER MARKETING AGENCY
Gymfluencers is a premium health & fitness influencer marketing agency with access to over 3000 influencers, 300 online coaches, and 505 million social media followers.
We're efficient, effective, and affordable and offer an impressive 5.2x Return On Investment (ROI) average to our clients. With instant access to a tried and tested network, Gymfluencers works to all budgets and offers anything from a pay-per-post rate to a full-scale campaign where we spread the content across multiple influencers to ensure maximum impact.
WHO WE WORK WITH
Our brand partners have included Hello Fresh, Fitness First, Vitl, Vidrate, Green Chef, The Body Shop, Eat Surreal, Insure4Sport, Asystem, Bulletproof Coffee, Pique, ZENB, and hundreds more.
How To Become A Fitness Influencer
Getting paid for posting on your socials is simpler than you might think. Influencer marketing isn't just for your Love Island contestants of the world, micro-Influencers with 2,000+ followers are also making a huge impact on the industry thanks to their high engagement and trusted status among their followers.
We work with anyone who can influence a sale or promote the values of the amazing brands we work with. To do that, you need to be able to create high-quality, engaging content with great visuals that adds value to a business or campaign. If you think you've got what it takes but need a nudge in the right direction, then we also offer training on how to become a paid fitness influencer with reel tutorials, news, reviews and videos listed on our original website and social media pages.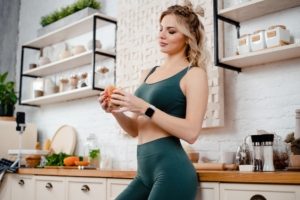 What We Can Do For You
Being part of our network means that if your profile and rates align with a brand then you will be presented as an option to promote them. Often getting your first brand deal can be the hardest step, so once we've given you that platform for exposure, and of course if you do a great job (which we're sure you will), then it can really kickstart your career.
Working with us also gives you the comfort blanket of having an agency to fight your corner. You won't have to go chasing brands for payment, we set rates from day one with all of our influencers which is based on multiple factors including the number of social media followers, likes per post, click rates, engagement and most importantly quality of content.
How To Sign Up
If you have a minimum of 1,000 followers on social media then you can sign up to become part of the Gymfluencers family by filling out the form on our website. We charge a total of £29.99 per year to be on our network, but that fee includes at least £29.99 in brand offers, free vouchers and promos. It'll also secure you a minimum of one offer from a brand for no less than 25% off your desired rate.
So, what are you waiting for? Click here to take your first steps to financial freedom.